Henry Beston - The Outermost House
Photographs by Debora Rosen 1965 Cape Cod, MA

- Hello from Cape Cod -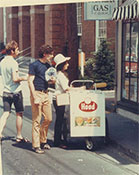 Thank's for visiting my website, please email or call me with any of your requests, ideas, stories, photos, art, etc. relating to Henry Beston and his book The Outermost House, or any of his other books,and yours too!
Please note, my website is new, and I will continue to add more photographs for purchase and have more stories to share - like my joyful experience in 2005 living in another dune shack in Provincetown and will include lots of my photographs!
Presently, I am working on another photographic website covering my other professional portfolio from 1960's to present years!
All this is very exciting for me, so check back and I will notify you about the progress I have made and all my new social info, Facebook, Twitter etc or click here to send me your email address.
If you call my business and leave a message 1-508-240-6460 please repeat your phone number twice, sometimes I am unable to hear it the first time-
Kindly,
Debora